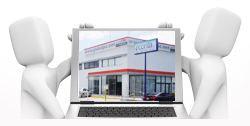 Global PCNet, is a telecommunications company that was created in 1995 in the city of Nuevo Laredo, Tamaulipas, Mexico. With an innovative and creative trajectory, the company offers its services in its home city and in Laredo, Texas. Currently Global PCNet's software applications are being used in many cities in Mexico and in the United States.



Our Core services offered include:

Internet Access


Software Development


Technical Support and Telecommunications Outsourcing


Structured Cabling of Voice and Data


Voice over IP


Web Site Design


Hardware Sales


Web Site Hosting.

Since its establishment, Global PCNet has maintained important commercial ties with the region's most important market sectors, customs agencies, transportation companies, and factories.


In 2005, the company developed a web application for the Administration of Foreign Business Operations, which has successfully been used by a sector of the trade union of Customs Agents.


Our Mission
"To satisfy the necessities of our clients offering integrated quality services –always at the forefront

of technology".

Politica de Calidad

"To satisfy the necessities of our clients using quality services based on a modern and human

infrastructure "

.